Mobile Services
Your Accounting Solutions prides itself on offering fast, friendly and patient service to businesses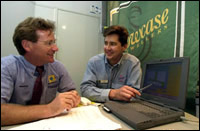 Your Accounting Solutions does this by offering a variety of services, which may suit a business at various times, including initial set-up and training, to ongoing training & consulting or regular monthly / quarterly service. Your Accounting Solutions will get involved in your business as much or as little as you wish us to.
We can come out as little as once or twice a year to clear up some problems you might be having or as regularly as once per month / quarter.
Installation Service
This service is designed where you have purchased an accounting package, such as MYOB, Quicken or others, and have no idea were to start.
On-Site Installation of computer accounting package includes
Set up Chart of Accounts to suit your business
Enter Customers, Supplier & Employee information
Enter Opening balances, including accountants, customer & supplier Opening Balances.
Training you and / or your staff on inputting YOUR own business day to day data in plain English.
Initial set-up usually takes (depending on other things you may wish to install, ie personalised invoices) 3-4 hours. We recommend, but this is entirely up to you, a second visit after 2-3 weeks, to check what you have done and give additional training if required.
We then provide free ongoing telephone support to our clients. That's right, if you have a query we can help you with over the telephone, we will not charge you for this, ever. *Conditions Apply.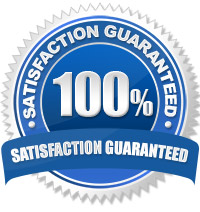 MONEY BACK GUARANTEE! Your Accounting Solutions are so committed to good service that if you aren't delighted with our installation and training services you can have your MONEY BACK
* If we feel that you are constantly telephoning us for support, we may recommend that we come on-site again for additional training.
Training & Consulting Service
This service is where your accounting package has already been set up, but you may need some occasional additional help or a regular Quarterly "Check-Up" to ensure all your transactions have been entered correctly for GST purposes and prepare the dreaded "BAS" return.
We can also come out once per year to go over your accounts and ensure that everything has been entered correctly prior to giving the information to your accountant to prepare your end of year tax return or to enter in your accountant's final adjustments have the tax return has been completed.
Month End Service
If you prefer, we can take the whole accounting job off your hands! This is great for the busy office that has better things to do than accounting.
We take away your accounting worries and become your part time "Financial Controller". This can be a weekly, monthly or quarterly service, which can included the dreaded "BAS" return.
We come to you, do all or most of the data entry, then prepare and provide you with easy to read, insightful Business Guidance Reports, including our special "Snapshot" summary report. Click here to see an example report.
Would you like a ONE PAGE monthly business report you can understand …like this? These business reports are called 'Snapshot' Summary reports. All the important business information is on one page! Your Accounting Solutions clients get a report like this monthly or quarterly. What about you?
This report contains:
Profit & Loss
Money owned,
Money you owe
How you're going against budget
Cash at bank and lots more.
Just what a busy business owner needs!
Cashflow 'Health-Check' Service
Most businesses fail through lack of cash... NOT from lack of profit... and our research tells us CASHFLOW is the number one issue for business owners! These same business owners may conclude that to improve poor cashflow, the answer is to sell more. Well for some businesses, making more sales, securing a new contract can be absolute disaster... and a much quicker way to failure. Understanding where the cash goes and why is the key to controlling it.
What is involved in a 'Health-Check'?
Firstly, we need an hour or so of your time to get some straight-forward information about your business. We ask some questions - general questions at first and then a few more specific ones. Using this data and a special computer programme, we can input and analyse this data and plot forward the weeks ahead where cashflow is going to be an issue. We will then produce this information and analyse it with you, so you have absolute certainty about your cashflow issues and what to do about it.
We give you an incredibly easy to understand "Cashflow Graph" that gives you a 'snapshot' of your businesses cashflow - week by week.
Knowledge of cash commitments and a special 13 week 'Rolling Cashflow'. Advice on how to structure and implement a Cashflow strategy.